Turn every project into a success story with Speridian O360.
Powering modern organizations, O360 Project Management lets you work on big ideas, with a strategic, all-encompassing view of your Project Management processes.
Accomplish greater commitment throughout the project lifecycle with vendor and client access options, while strengthening internal processes for efficient scheduling, timely resource deployment and effective management of project finances.
O360 Project Management creates value for your customers and stakeholders every step of the way, letting you build lasting connections to become an industry leader.
Project Management– Standard
Project Execution – From project kick-off to successful completion, enjoy ease of planning, close collaborations across functions, intelligent monitoring for deviation risks, and real-time tracking for a unified project execution.
Project Intelligence & Customization – In-built analytics and interactive dashboards for immediate visualization of critical project details to drive sound project outcomes, in line with strategic business decisions.
Project Resource Management – Drive efficient resource utilization with metric-backed decisions, that consider availability of skillsets, prior performances, associated costs, project locations and employee locations before the best resource is deployed.
Status Report & Schedule Summary
Payment Milestone Tracking
Customized Reminders & Notification
Change Request Management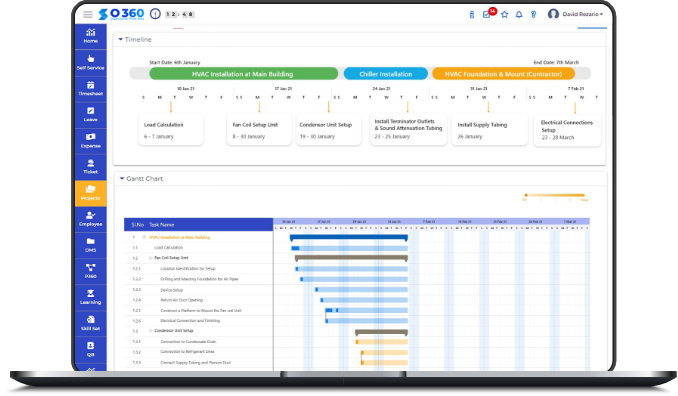 Project Management – Enterprise
Advanced Project Tools – From sophisticated estimations tools to automated project trackers that reduce errors and drive efficiency, organize tasks and critical activities in detail for on-time project completion.
Project Inventory – Eliminate Project Manager's anxiety by automating Project's Inventory Management. Reduce project delays by managing inventory availability with one-click orders and automated replenishment. Increase your project team utilization by on-time and accurate inventory assignments. Track inventory usage throughout project lifecycle.
Subcontractor Management – Simplify vendor selection based on RFQ responses, onboard contractors with virtual service initiations and consolidate supply agreements and documentation on a reliable project interface. Effortlessly oversee subcontractor assignment, milestone-based document reviews and track overall subcontracted project module completion status.
Project Timeline & Task-board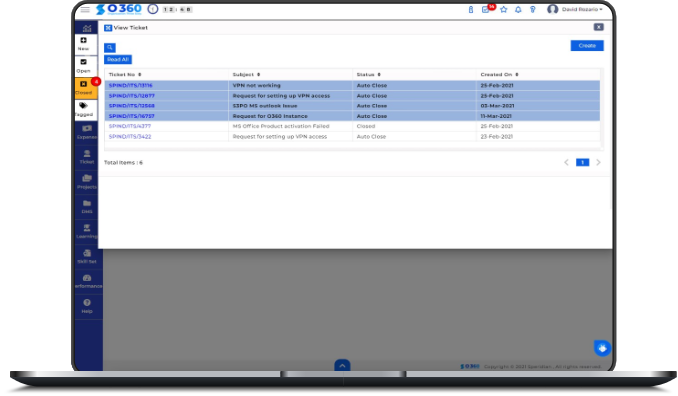 O360 Client Desk
This interactive client desk is not just a project management tool that helps improve your customer service. It also tracks increased responsiveness to client feedback and categorizes escalation requirements for improved management of project grievances.
Client Portal – Support Request
Customizable Ticket Workflow
Configurable Alerts & Escalations
O360 Vendor Desk
With a powerful vendor help desk, connect outsourced activities to the project WBS for better risk management during project execution. Collaborate online, to make vendor operations more efficient and visible for timely responses to real-time communication and concerns – effectively ensuring smooth project completion.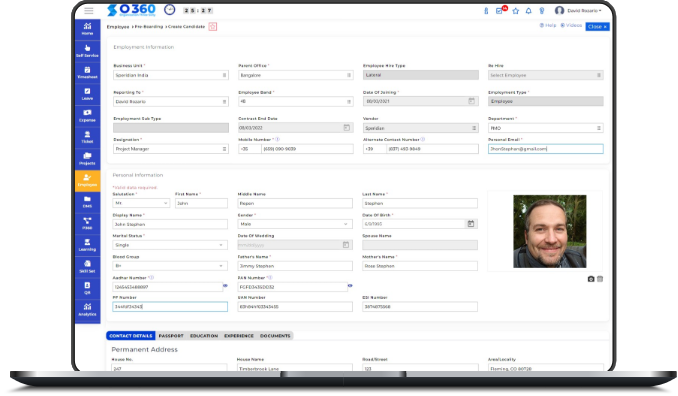 Vendor Access & Module Assignment
Work Order Completion Tracking
Real-Time Data (Project Requirements, Purchase Orders, Delivery & Billing, Change Requests)
Configurable Alerts & Escalations
Ready to propel your business forward into the digital future with Speridian O360? Get in touch.
Here's what our
customers

say about us…
"O360 simplified many of our company hectic tasks and helped in bringing a workflow. It's easy to use and meet the needs of Admin and Employees. O360 transformed the way we work and helped us in efficiently managing our employees and projects."
Lancy Darwin
Sr Operations Manager
"O360 has changed the way we work with its ease of use, fully loaded features and user-friendly interface. Be it the learning management, expense, employee onboarding or ticketing, O360 has become a game changer for Healthcare E-Commerce. We certainly have two phases in our life cycle - life before O360 and after O360. Many thanks for improving our productivity. Keep delighting us in future too!"
Matthew Goldfuss
Healthcare E-Commerce